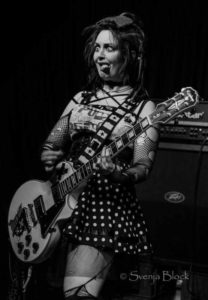 deutsch:
Kiss my Acid sind ein laut röhrendes, alternatives Grunge-Punk-Trio, emporgestiegen aus den Slums von Irland und angeführt von dem bunten Paradiesvogel Freda Conlon. Erst 2015 gegründet veröffentlichten sie bald darauf ihre Debut-EP "Individuality" und kurz darauf ihren ersten Longplayer "Fundamentally Ill", der sich zum Tourrenner mauserte und dafür sorgte, daß sich um die Band eine treue Gefolgschar bildete, die ihr zu den Konzerten im gesamten United Kingdom folgt. Sie arbeiten unermüdlich weiter daran, sich einen Namen in der Szene zu machen und spielen sich immer mehr in die Herzen der Punkfans. Obwohl gespickt mit Anleihen bei Bands wie Green Day, The Distillers oder Nirvana haben Kiss my Acid ihren eigenen und einzigartigen Sound mit 2-Minuten-Punkkrachern voller Zorn und Frust, die urplötzlich in grungelastige, düster angehauchte Passagen münden, entwickelt. Bekannt für Freda's abgefahrenen Schuhtick auf der Bühne und ihre schweißtreibenden Liveshows sind Kiss my Acid mit Sicherheit eine Band, der Ihr Gehör schenken solltet.
englisch:
Kiss My Acid are a loud and snarling, three piece alternative grunge-punk band spawned from the slums of Ireland lead by brightly coloured crazy booze fuelled front woman Freda Conlon. Formed in June 2015, and already having released the debut EP entitled "Individuality" shortly followed by thier very first full lenght album 'Fundamentally Ill' which was a touring success that managed to gather up quite a following of fans across the UK, they continue to make a name for themselves among the music industry and win the hearts of the punk scene. Although peppered with influences of bands such as the likes of Green Day, The Distillers and Nirvana, Kiss My Acid have a very unique sound with two minute power chord punky bursts of pure anger and frustration which can quickly switch to a more grungy dark demented vibe. Known for thier boozey silly antics on stage and fast paced energetic live shows, Kiss My Acid are certainly a band to go check out!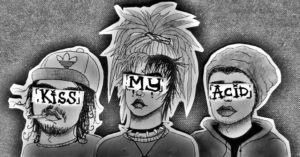 Nach zwei grandiosen Auftritten auf dem Rebellion Festival in Blackpool 2016 und 2017 kommen Kiss my Acid nun erstmals zu uns auf Tour. Holt diese tolle Band zu Euch auf die Bühne.