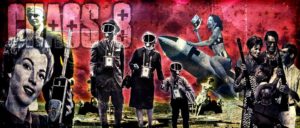 deutsch:
CHAOS 8 kommen aus dem Nordosten Englands.
Gegründet wurden sie 2012 von Gitarrist und Songschreiber Paul Williams und Sängerin/Textschreiberin Beki Straughan. Später kamen dann Steve Naisbet (Drums/Percussion/Backing Vocals), James "OZ" Bowey (Bass) und – um dieses fünfköpfige Monster einer Band zu vervollständigen – David Mooney (Keyboards/Synth) hinzu.
Ihr Debutalbum "BURN" wurde im Juni 2014 veröffentlicht, der Nachfolger "CAUSE & EFFECT" erschien im Dezember 2016. Eine neue 4-Track-EP ist für den Sommer 2018 geplant.
Ihren Sound kann mit nur wie folgt beschreiben: "unglaublich kraftvoll" mit einer rocklastigen Rhythmus-Section, starkem Gesang und rasiermesserscharfen Texten.
Dieser definitiv treibende Gitarrensound (ja, von nur EINER Gitarre!) bestimmt den Sound von Chaos 8, während die düster anmutenden Synthies eine entsprechende Struktur schaffen, die eine wahrhaft brutale, aber auch schöne beklemmende Atmosphäre in jeden einzelnen Song packen.
Hört Euch diesen einzigartigen Sound an – aber hört ihn laut! Und er wird Euch süchtig machen…
english:
"CHAOS  8 hail from the north east of England.
They formed in 2012 by guitarist/songwriter Paul Williams and singer/lyricist Beki Straughan on lead vocals, who were later joined by musical allies in the form of Steve Naisbet on drums/percussion and backing vox, bassist  James "OZ" Bowey and completing this juggernaut of a five piece is keyboard/synth player David Mooney.
They launched their debut album "BURN" in June 2014 with their 2nd album, "CAUSE & EFFECT", released in December 2016 on cd, with  limited edition red vinyl released in January 2018. A new 4 track EP is planned for summer 2018.
Their sound can only be described as "incredibly powerful", with a rock solid rhythm section, strong vocals and razor sharp lyrics!
This has a definitive hard driven guitar sound (yes…that's just one guitar!) that totally dominates Chaos 8, whilst the dark swirling synths  give you atmospheric textures that truly bring out brutal, beautiful and oppresive moods that encapsulate every single song.  Go listen to their unique sounds…but listen to it loud….you'll be left wanting more!"